There's no better companion for the outdoor world than a really good book, and no quicker way to get to know a community than with a wander around its bookshop. These shops are troves of local insight, sure to sharpen your appreciation of a place with knowledge of its history and living traditions.
So why not plan a bookshop browse on your next Contours holiday? Read on for some of our favourite bookshops on UK trails.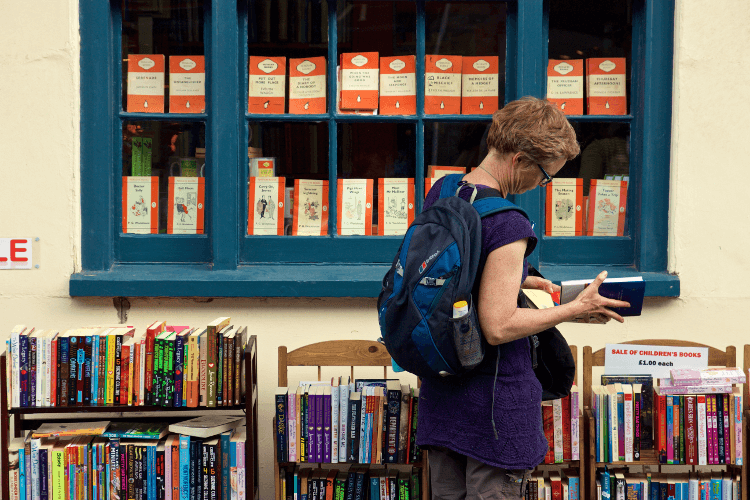 Hay-on-Wye Bookshop by Alexander Baxevanis on flickr
Bookshops on the trails in Northern England
The Contours Holidays office is based in Derbyshire, so I have to lead with the local treasures we know so well. These are some real staff favourites, expanding up toward Northumbria and the always-famous Hadrian's Wall.
Scarthin Books of Cromford
Found on: The Derwent Valley Heritage Way walking holidays
Scarthin Books is so close to the Contours office that I've wandered down there a few times on my lunchbreak, and what a joy that is. This place is probably what you picture when you think of a proper old bookshop: a true labyrinth, full of little off-shape nooks packed floor-to-ceiling with modern releases intermingled with second-hand treasures. The breadth of their catalogue is incredible.
We also highly recommend their vegetarian café, nestled amongst the shelves.
Scarthin Books of Cromford • Online Bookshop
Scrivener's Books and Bookbinding, Buxton
Found on: Peak District Boundary and White Peak Way walking holidays, White Peak Leisure cycling holidays
A bit further down the road from Contours than Scarthin, Scrivener's is a beautiful stone building lined with books. There are five floors, holding some 40,000 volumes between them, with such an engaging mix of books affordable, signed and antiquarian that you'll need to have a thorough look around.
Scrivener's boast their own on-site bookbinding service to patch up your rattier (most beloved) keepsakes. They even sell tiny hand-bound books as jewellery — an unusual memento of a walking holiday, but a good one, we think!
Scrivener's Books and Bookbinding
Bookends of Carlisle
Found on: Hadrian's Wall Path walking and trail running holidays, Hadrian's Cycleway and Reivers Route cycling holidays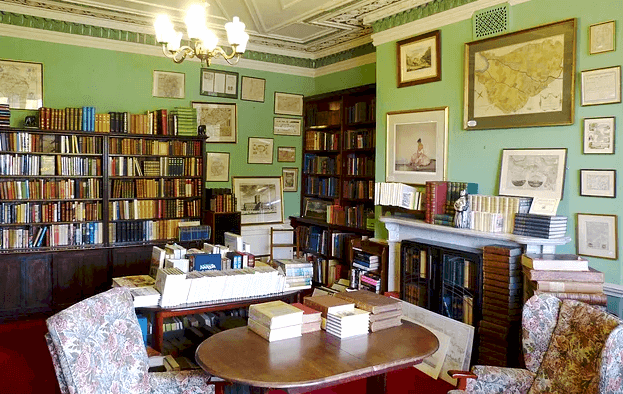 The Antiquarian Room by Bookcase Carlisle
This is an enormous, multi-storeyed tangle of a building, with high shelves and higher ceilings. Bookends of Carlisle has a massive catalogue of stuff that I could happily get lost in, and sweeps up extra points for its range of over 1,500 Cumbrian books in all sorts of subcategories. With a brilliant café below and a relaxing garden out back, a trip to Bookends could easily be a day-long affair.
Bookends has another branch over in Keswick, so why not drop in on one of our Lake District Short Breaks or from a walking holiday on the Cumbrian Way?
Bookends of Carlisle • Bookends' Online Shopfront Through Bookshop
The Stripey Badger in Grassington
Found on: Lady Anne's Way and Three Dales Way walking holidays, Dales Way walking holidays and trail running holidays, Vuelta a Dales and Dales Cycleway cycling holidays
The Stripey Badger knows how to make a bacon sandwich — and how to portion a cake. If your holidaying companions aren't as big on books, rest assured the café at this cosy bookshop in Grassington will keep them amused for a long time indeed while you browse the shelves next door. The Stripey Badger is a small shop, clean and bright and lovingly stocked by an owner who knows so much about each book.
Westwood Books, Sedbergh
Found on: Dales Way walking holidays and trail running holidays, Dales High Way walking holidays
Sedbergh itself is England's book town, but Westwood Books deserves a shout-out of its own: it's the largest bookshop in the Yorkshire Dales. Once an old cinema, Westwood tames that vast space with an excellent sorting system and a layout reminiscent of an airy library. It's easy to find what you're looking for, with topics ranging from local interest to outright academic, and the browsing experience benefits from all the natural light pouring in through the huge windows.
Southern England's Trailside Bookshops
Boasting walking trails like Coleridge Way, the literary soul of southern England is already on show. But there are plenty of independent bookshops here too, each well worth a visit.
Bath
Found on: Cotswold Way walking holidays and trail running holidays and walking holidays on the Kennet and Avon Canal Walk
Time your holiday well and you could drop into the Austen festival held annually here in Bath. But no matter when you arrive, the city has rich literary connections to the likes of Dickens and Shelley, and good bookshops seem to grow here naturally.
Drop into Topping & Company Booksellers to see if you can find a signed copy of a recent release, or try Skoobs Books at the Guildhall Market for brilliant books secondhand. George Bayntun bookshop wins for stunning history and an incredible array of first editions.
Blackwell's in Oxford
Found on: Thames Path walking holidays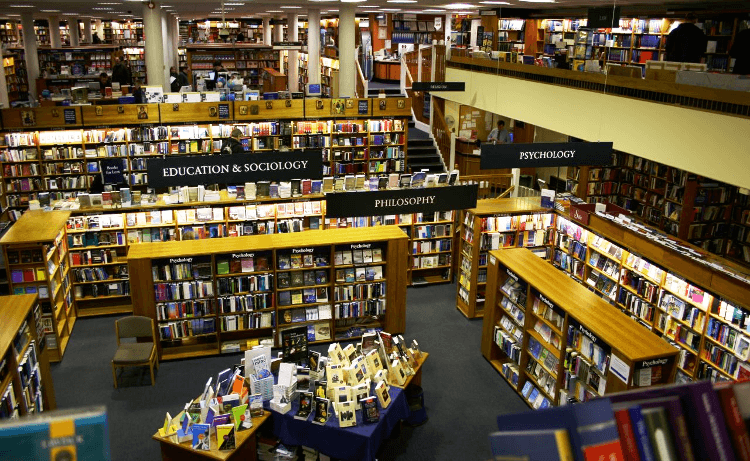 Norrington's Basement by carnavalet on flickr
Oxford is full of brilliant independent bookshops, but I'm picking out one that launched England's most famous bookselling chain: Blackwell's. To a degree, I have to. My mother used to work here.
But there's more to it than that. The sheer scale of the place is legendary. The flagship Blackwell's shop in Oxford hosts some million books across truly monstrous floors: storeys bigger than you'd ever anticipate while standing outside. The Norrington Room is the most impressive of all.
Moss Books in Cheltenham
Found on: South Cotswold walking holidays
Moss Books isn't exactly organised like other shops on this list, but that only ramps up the excitement when you have time to really browse. There's a vast array of material here. Dig through the full shelves and the stacks rising from the floor and you're sure to find something fascinating, although brace yourself: it might be the latest hidden layer of books. I recommend the alcove under the stairs for the obscure history you might find there.
Beerwolf Books in Falmouth
Found on: South Cornwall walking holidays and trail running holidays, South West Cornwall walking holidays and trail running holidays
Given how many bookshops have cafés, it's a real shame how few incorporate pubs — but with Beerwolf Books trailblazing for the pint and novel combo, we're hopeful more will follow. Beerwolf sets a real gold standard, too. It's a characterful freehouse with a great selection of real ales and loads of books lining the bookshop's walls over multiple floors. I suspect Beerwolf is the best evening stop on this whole list.
The Edge of the World Bookshop in Penzance
Found on: Far West of Cornwall walking holidays and trail running holidays, South West Cornwall walking holidays and trail running holidays, Land's End Round walking holidays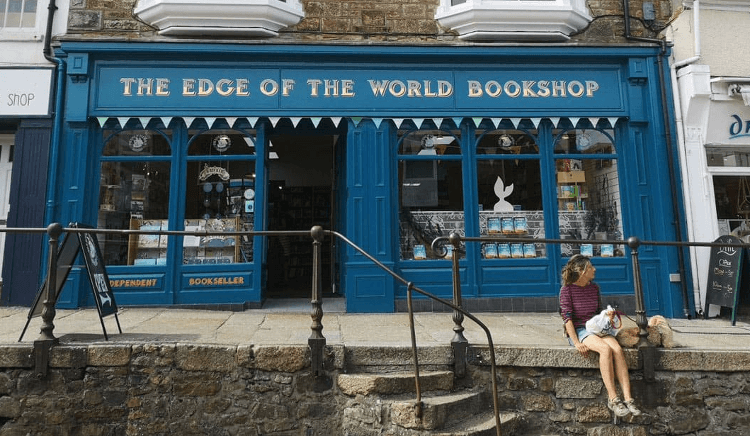 by The Edge of the World Bookshop
Complete with friendly staff always ready to give enthusiastic recommendations, The Edge of the World Bookshop has an incredibly passionate, vibrant atmosphere to it — it seems like there's almost always a book-centric conversation going on in here.
The shop demonstrates just how lovely a modern, less-cluttered bookshop can be, too, with a large, well-presented selection of new titles in both fiction and non-fiction. Quite possibly the nicest shop in Penzance.
The Edge of the World Bookshop Online
Bookshops on Welsh trails
Welsh bookshops have a lot of work to do, what with two languages to accommodate and a bewitching resurgent culture to show off. They pull it off spectacularly, though, and provide hubs of local knowledge that demand a visit when you're passing through.
Hay-on-Wye
Found on: Offa's Dyke walking holidays and trail running holidays, Wye Valley Way walking holidays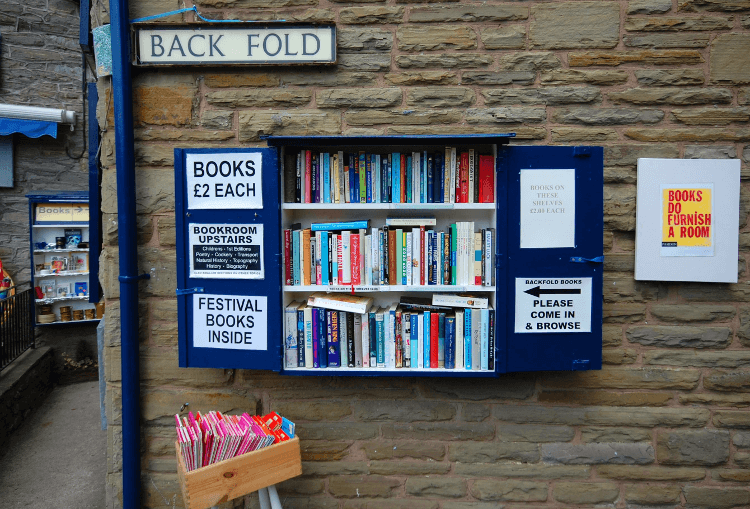 Back Fold by Ismas on flickr
I'm not going to pick out any one particular bookshop in Hay-on-Wye. It has twenty, and as a result, the place is rightly famous as the National Book Town of Wales. Contours' director, Karen, used to visit Hay on the bus to stock up on her yearly reading matter, and that idea of a literary pilgrimage really suits the place.
If you love books, really you should be booking an extra night here, maybe two. Don't forget to request Contours carry an extra bag for your all acquisitions — there's a weight limit for bags, after all, which your new library will probably exceed.
The Hours, Brecon
Found on: Usk Valley Walk walking holidays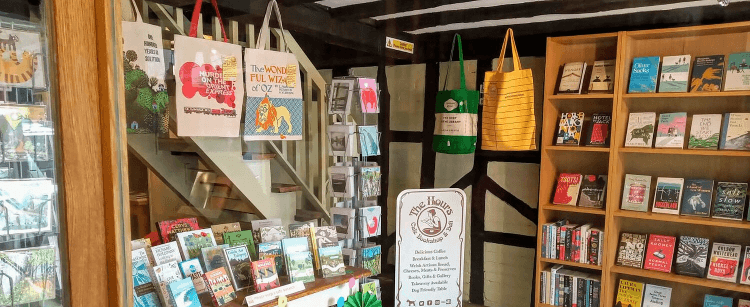 by The Hours, Brecon
The Hours pitches itself as Brecon's hub for food and culture, which is quickly proven accurate once you're inside. The café is the best on this list, full of local produce and homemade meals. And then there's the first lot of books, arrayed beautifully before stone-and-timber walls.
The Hours isn't over-encumbered with too many titles; it stocks a curated selection and displays them perfectly, with a well-lit reading spot to settle down in as you're deciding which to take home. We particularly enjoyed their collection of walking guidebooks.
Palas Print in Caernarfon
Found on: North Wales Coast Path Highlights and Llŷn Coast Path walking holidays
Palas Print is one of those bookshops you want to linger in. It's brightly coloured and airy, with a selection of books that's expansive but not overwhelming — lovingly curated. With books in Welsh and in English, there's plenty to go at, too, and the staff are helpful and patient with Welsh learners if you want to round out your vocabulary with something more challenging to read.
St Davids Bookshop in St Davids
Found on: Pembrokeshire Coast Path walking holidays
An outlier on this list, perhaps, St Davids Bookshop is very small: a little space tucked away across two small floors near the stone gatehouse to the town's beautiful cathedral, with a tiny, eclectic stock of good-quality books and other little snippets of history.
And that's what I really like about it — just how involved it is with the history of the area. You really feel like you've found something a bit hidden and special here, even more so if you take the time to chat with the owner, once mayor of St Davids. He's owned this shop for 50 years, and knows so much about the town around him.
St Davids Bookshop on Google Maps
Bookshops in Scotland
Between its bookshops and its distilleries, Scotland clearly wants us all to settle down before a log fire with a glass of scotch and a consuming novel. Frankly, I'm not going to argue. This must be the best way to wind down after a long day in the stunning Scottish countryside.
Leakey's Bookshop in Inverness
Found on: Great Glen Way walking holidays and trail running holidays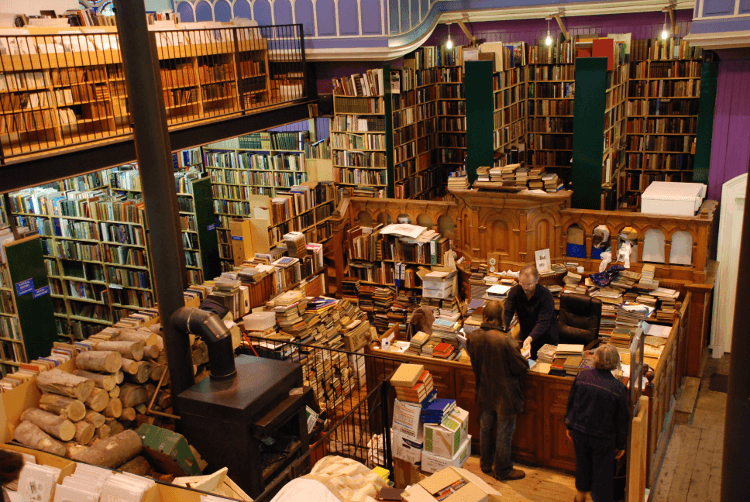 Leakey's Bookshop by sethoscope on flickr
This list is undeniably flavoured by my personal love of second-hand books, and Leakey's is Scotland's second-largest second-hand bookshop — almost a shoe-in on that fact alone. But it's also utterly beautiful. The shop is housed in an eighteenth century church, with a roaring log fire and 100,000 books. If that aesthetic hasn't won you over already, perhaps their catalogue of rare, even exclusive books will.
Leakey's Bookshop on Facebook • Leakey's Online Storefront through AbeBooks
The Golden Hare in Edinburgh
Found on: Coast and Castles North, Coast and Castles South and Scottish Coast to Coast cycling holidays, John Muir Way walking holidays
The world's first UNESCO City of Literature, Edinburgh is as well-stocked with bookshops as you might expect. One amongst them is The Golden Hare, complete with a wonderfully well-curated selection of new books. The staff have a real eye for picking out gorgeous covers, so if you're looking to buy a gift for a bibliophile friend, this is the place.
Actually, you can even buy a gift for your bibliophile self and have it come as a surprise: The Golden Hare sells covered-up mystery books as well. Take a chance! says the display, but if these books are as carefully chosen as the rest of the shop's selection, odds are you've got yourself something special.
The Highland Bookshop in Fort William
Found on: East Highland Way walking holidays, Great Glen Way walking and trail running holidays, West Highland Way walking and trail running holidays
There's a brilliant collection of outdoorsy books in particular here at Fort William's Highland Bookshop. The ground floor hosts new books, with an expansive range of work from Scottish authors — some of the locally focused titles are sure to make ideal keepsakes for your holiday.
Meanwhile, the second floor packs in second-hand deals, great to take with you through the wilderness. Their evening opening hours are a godsend at the end of a muddy day in the Highlands.
The Highland Bookshop • Online Shop
The Return of the Independent Bookshop
After a time when the future of the printed word looked shaky, the independent bookshop is back on the rise — and there's no question as to why. They're wonderful. They're the welcoming, often beautiful heart of culture in towns across the British Isles: the perfect places to find inspiration, or tranquillity, or likeminded people for a really good chat.
To me, seeking out and visiting the local bookshop is integral to the whole process of getting to know someplace new. And you get to leave with a sack full of books.
So I'd say the happiest part of compiling this list is that I could go on. And on. Our trails are bristling with these brilliant spaces, and while I've captured a few of my favourites here, there are plenty more. Have you found any gems while out on the trails?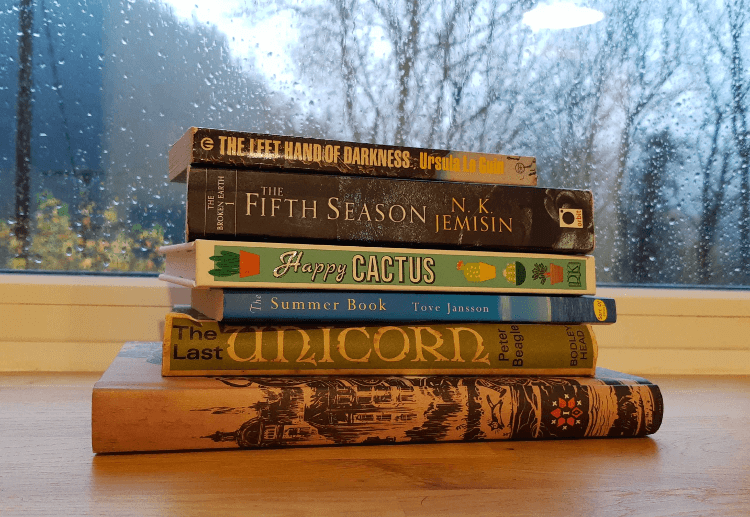 An Addendum: the Remote Alternative
Alright, maybe you're stuck indoors thanks to Covid-19, yearning for a good read to keep you sane. While you might not be able to visit your favourite independent bookshops in person, you can still support them through the new online storefronts at bookshop.org — or via their own individual websites or social media presences, linked above wherever possible.
Some bookshops have perfected this long-distance lark, with Blackwell's delivering locally by bicycle and shops like The World's Edge Bookshop accepting orders sent by phone, email, text, WhatsApp, social media... You might find it's easier than you think! And there's been no more critical time to help out the local hubs we all love.